Stampede Tunnel, pg 3.
---
These were taken at Martin (east end of tunnel) on July 16, 1995.
The east end was also protected by a snowshed which was destroyed by a fire.
All that remains are the concrete footings on each side of the roadbed
The following photos were taken on July 29, 1995 at Martin (east portal) during our second ride through the tunnel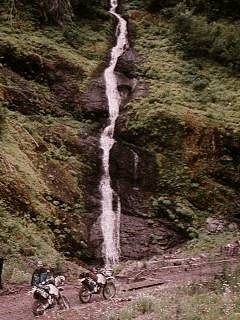 To reach the tunnel from the East side we followed the maintenance road
alongside the tracks from Easton. The tunnel is about 9 miles from Easton.
There was a drilling crew working inside the tunnel. They were drilling into the walls and ceiling, At first we thought we wouldn't be able to ride all the way through. One of the workers had just came out of the tunnel, he said we could probably pass on either side of the truck in the tunnel.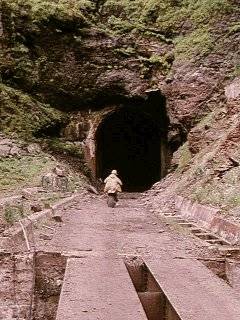 This is the worker we talked to about riding through, he is going back into the tunnel.
Once inside the tunnel we rode down the tracks between the rails. When we encountered the drilling crew and their truck, we moved our bikes to the outside of the rail and passed the truck, then continued between the rails. The ride was fairly rough near the each end of the tunnel, but smoothed out once we were about a hundred yards inside. Keeping our speed up around 25 mph also helped to smooth out the roughness.
For more photos, please proceed to the next page, return to index or previous page

---
There have been
visitors since November 27, 1997
---
Please send email with any comments or questions.
Revised 04/01/05
Copyright © 1997, 98 Doug B